Sun's Magnetic Field To Flip In Complete Reversal That Will Have 'Ripple Effects'
FROM

.
Get ready, Earth. The sun's magnetic field is about to do a 180 when the celestial body's electromagnetism flips and changes polarity.

According to NASA-supported observations, the complete reversal is expected to take place in the coming months.

"It looks like we're no more than three to four months away from a complete field reversal," Todd Hoeksema, a solar physicist and director of Stanford University's Wilcox Solar Observatory, said in a statement released by the agency. "This change will have ripple effects throughout the solar system."

So should we be concerned about the reversal of the sun's magnetic field?

History says no.

While the field reversal is a big event for the solar system, the change in polarity is rather routine. The magnetic flip takes place at the peak of each solar cycle every 11 years. Nearing the mid-point of the sun's 24th observed solar cycle, the star's south pole will soon follow the north's lead and change its magnetic sign.
.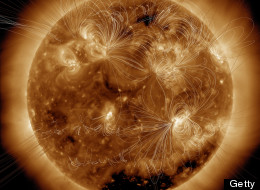 An illustration depicts magnetic field lines on the sun. (Photo via Getty)
.
.
Click link below
for story, videos and slideshow:
.
______________________________________________________________________________